Squat, Bench and Deadlift with Farhanna Farid
Regular price

$450.00

Sale price

$360.00
 About the Programme

This 4-hour workshop covers the fundamental movements of powerlifting: the squat, bench and deadlift  (SBD). Participants will learn the basics of SBD, identify the most optimal form and techniques suited to their individual leverages, how to optimise their performance and gain a brief insight of RPE- (Rating of Perceived Exertion) based programmes.
This workshop provides participants with the knowledge and skill set they need to execute the three big movements in a safe and guided environment. It serves to not only establish a strong foundation for lifting weights but also empower participants with the knowledge of their own bodies, movement and confidence under physically demanding situations. 
Day 1: An Introduction to the Squat, Bench and Deadlift
-   Basic Execution: How to lift safely, brace, joint stack and establish midfoot pressure
-   Debunk common misconceptions and myths
-   Practical: SBD
Day 2: Optimisation of Lifts and Testing of 1-Rep Maxes
-   Bonus tips: How to warm up and set up optimally
-   Troubleshooting
-   Introduce momentum
-   Basics of programming (RPE system)
-   Practical: 1-rep max testing 
Powerlifting is for all ages, shapes and sizes. Learning how to lift safely is the first step to lifting heavy and lifting regularly. 
Through Farhanna's guidance, participants will build the mental fortitude that will allow them to consistently push themselves beyond their comfort zones and break their own glass ceilings. Beyond that, they will gain a deeper understanding and appreciation of their bodies.
Schedule 
PURE Fitness Ngee Ann City
24-25 June 2023
10am-2:30pm
Tuition 
Early-Bird Price (20% Discount): S$360  
Regular Price (2 days): S$450 
*Early-Bird Price valid until 24 May 2023.
Refunds/Cancellation
No refund or credit will be given for cancellations starting 25 May 2023. 
All refunds are subject to a 10% processing fee that will be deducted from your refund. 
Terms & Condition

Terms & Conditions 

Photos and video may be taken, solely for PURE marketing purposes. 

 
Share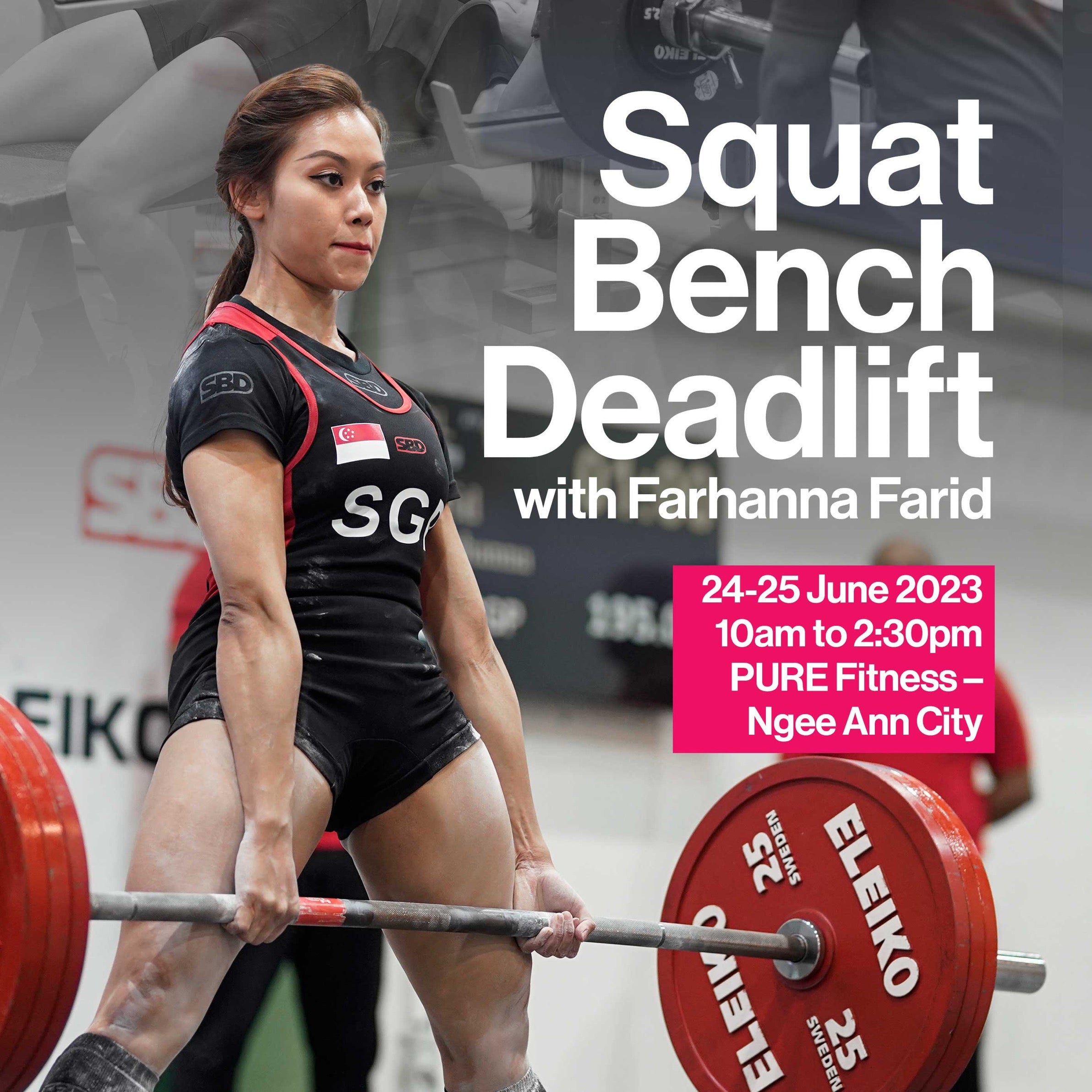 Your Satisfaction is 100% Guaranteed!
High Quality

You'll see how much we do to make sure best high quality event are delivered.

High Reputation

Our reputation and the success of our company rests on making you happy with your order.